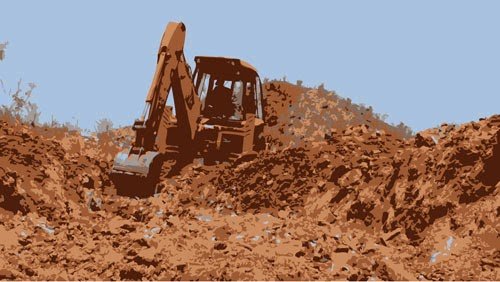 If you're reading this, you probably love water-harvesting earthworks. When done right, they can start repairing damaged land right from the first rainfall after they are installed. When done wrong, they can waste a lot of money, or even put lives and property at risk.
Here are six things to keep in mind when planning earthworks for a site.
1. Slow it down
The point of harvesting water is grabbing it and holding it as long as you can before it escapes you by going off your site. The longer that water stays on site, the longer it is available to you. Whether you are choosing open storage, or directing it into the ground, your aim is to make it stay around longer.
It's worth mentioning a curious misconception that some people have. Some folks have the idea that if you slow water on your site, you are taking it away from anyone downhill, leaving them with less water. This is not at all the case at all.
Allowing runoff rather than capturing it is generally a no-win situation. To regreen a water-starved place, would you encourage water to rush down off the hills as quickly as possible so that all the downhill people could have it? This, in essence, would be designing the land to make water travel out to the ocean as quickly as possible. Not only is this a recipe for erosion, it is a recipe for turning permanent rivers and streams into ephemeral ones that only flow during heavy rains.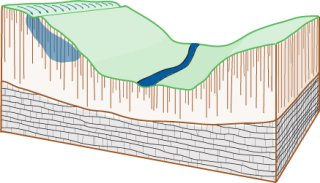 With earthworks, you are rehydrating the landscape. Rehydrating the landscape means more water available more often for the people downstream. While they might see a temporary reduction in surface runoff in the short term, in the medium and long term they will have more groundwater available.
2. Safety
Nature will throw enough adversity at you without adding to the list by creating your own disaster. A good risk assessment will help you to make wise decisions. Here are some questions to keep in mind before bringing in the machines.
How might this kill somebody?
How might this damage property?
What happens if there is a catastrophic failure?
Though you may be eager to install a particular feature on a site, safety might dictate that you walk away and leave the site untouched.
3. What does the land want to do?
You might have some exciting ideas about what you would like to see installed on a piece of land, but it is not going to work out very well if the earthworks do not suit the site you are working on.
A great perspective to take when deciding what to do is taking the land's perspective. What does the land want to do? To answer that, consider what the environment was like before human intervention. That will give you some insight into the most optimal techniques to use on your site.
What the land will do depends on:
Climate
Topography
Soil type and depth
Local flora and fauna
Consider what the site would look like if it were just left alone for 40 years. How would it change over time?
Once you know the direction the land will naturally head, you can choose an approach that will steer it in that direction, rather than fight against what the land naturally wants to do. Nature rewards partners and punishes dictators.
4. Think like water
Bruce Lee wanted you to have a mind like water. I want you to think like water.
If you are water there are a few things you will do such as evaporate, or freeze, but the most important one with respect to earthworks is that you travel at 90° to contour. To put it another way, you flow downhill. (It's true that if you are flowing through something, you will favour easily traversed mediums like sand over something denser like clay. In this case when travelling through soil, you might go at an angle less than 90o to contour. For planning purposes, however, 90° to contour is the rule.)
With this in mind, how will you, water, travel across the land? What path will you take? Check the land. There might be clues as to where you have travelled before – evidence of erosion, or of sediment building up. This can help you to make decisions of what to place where.
How much water will there be at one time? Not only do you need to know where the water does and doesn't go, you also have to know how much there is at one time. How big do the water-harvesting systems need to be? What happens if you get more water than expected?
5. Know what earthworks do what jobs
There are a lot of choices when it comes to earthworks, choosing the right one for a site means that your efforts will go further
If you read your site correctly, it will go a long way towards determining what you can or should do on a site. Soil type, for instance, will determine what will be effective and what will not. As an example, ripping with a subsoiler such as a Yeoman's plow can be very beneficial. It would be pointless to run one on sand or on lateritic soil, however. In the former case, the sand will just fall back in on itself. In the latter case, the land will flow and "heal" the ripping with the first rainfall (assuming you had the horsepower to get the power to break through the soil in the first case).
Next, you need to know what each type of earthwork does. For example, swales intercept water, sending it into the ground. They are great for sending runoff into the ground and helping trees to establish, but they won't do much of anything at all for garden beds.
Do you want to get more water in the ground, or do you want open water storage? The answer will depend on your climate and what you are trying to do. If you were in an arid environment, you wouldn't want a lot of open water storage, which would just be subject to evaporation. If you were in a humid temperate or tropical climate, open water could provide backup irrigation as well as opening space for aquaculture.
6. How much money do you have?
You can make a grand plan, but do you have the money to pay for it? You might have to implement things in stages. Hiring a tractor to pull a subsoiler is very affordable. Digging swales is affordable and has a high return on investment, if you are using them for the right thing in the right place. Installing a dam is a higher investment that will take considerable machine time, and thus more money.
You also have a choice of machines to work with. The hourly rate of a backhoe is cheaper than that of a bulldozer. If you are in a humid temperate environment, you can cut in a swale with a bulldozer in a small fraction of the time a backhoe could. If you were in a semi-arid environment with hard, lateritic soils, even if you could cut through with the dozer blade, the swale you made would be far too small and would just be erased with the first big rain event.
Over to you…
What approaches do you take when designing water-harvesting earthworks? What snags and solutions have you encountered with your projects?