You can tell the season a permaculturist is in by the frequency of blog posts they produce. Because it has been a while, I'll post a response to some questions sent in to my by a reader near Sira, India.
I plan to build rainwater harvesting & groundwater recharge structures, and leave the land undisturbed for few years. I will start serious work once I have more time. On a long term basis, I plan to build a small home and settle down in the farm.
This sounds like a really solid plan, in that it addresses the concern of water right away. Rainfall in most of India can be quite variable from year to year. It might be over 600 mm one year and as low as 250 mm on a bad year. Sira also has a dry period of around 5 months each year.
Are there any special considerations (Shape of land, amount of gradient, groundwater level, Soil quality) which I need to keep in mind while selecting a suitable piece of land for permaculture?
If Sira were a little farther north, I would recommend a north-facing slope to offer more shade (and thus more protection against evaporation). Because it is at 13°N, it won't make a huge difference. A north-facing slope is slightly better, but not by much.
You will want to avoid slopes that are too steep to work, and keep in mind that any slope more than 20° is dangerous for machinery to work, and you will want to use machinery for earthworks. Labour is cheap in India, but manpower is still more expensive than a backhoe. Safe the human labour for grooming the earthworks. Slopes of greater than 20° can be terraced, though the cost is much greater for terracing than for dams. The most cost-effective, and beneficial approach for steeper slopes is to plant trees on them. Look towards something dual-purpose like Sesbania sesban, which provides, shade, fixes nitrogen in the soil, and can be used as a pole lumber. You could alley crop with S. sesban, provided there is easy enough access to the land.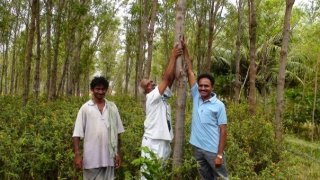 Sesbania sesban alley cropping
As for soil quality, the more fertile, the better, of course. The problem is, most of the soils will be rather nutrient-poor, lateritic soils. Looking at satellite images suggests that the soil is iron-rich, which would bode well for mango production.
To boost soil life, fertility, and thus water-retention, add powdered charcoal to the site (AKA bio-char or ag-char). This will greatly assist in building soils. Application of mulch on its own, or even compost on its own will not contribute much to long-term increases in soil fertility. The charcoal dust allows biological processes to take hold.
That said, you would do well to build a shaded cement trough that you put compost worms in to produce vermicompost. If the trough is 60 cm by 3 metres, you will be able to produce a fair amount of very high-quality compost. This would be something for the long term, not something you implement immediately.
For ground water levels, the higher the better, unless the water has a high salt content that would damage crops. It does not look like this is the case, however.
I don't want to dig a bore-well. Average rainfall in Sira area is around 600mm. Will Permaculture techniques allow me to store sufficient rainwater to achieve water security? I would need water for both irrigation, and for domestic use (once I settle down).
You might or might not get away without a bore. The majority of the wells I saw in Anantapur District were dug with an excavator. The town of Talupula, however, drew its water from a bore hole that was something like 1000 feet deep.
What will help you for household use is to make sure you catch the water that falls on the roof of the house you will build. You would also be wise to divert greywater from your kitchen into a heavily-mulched garden. Wasting water should not be done, particularly in such a dry place.
In terms of earthworks, ripping will not work in your situation. The nature of the soil is such that any ripping you do will be erased with the first rainfall. What will work are large swales, gabions, and rock wall dams (unless you have a lot of good quality clay on site). Dams are the most expensive option and require engineering. Gabions, however, are relatively cheap and can make a large difference when placed across a temporary seasonal stream.