There's more to design than techniques
Design is fascinating. On the surface, it's simple and has straight forward principles that you can comprehend at first glance. And yet the more you look at those principles year after year, the deeper your understanding becomes.
Good design is not only easy to recognize, it also looks obvious when you see it. And yet, it's so easy to design poorly. If you are a design teacher like I am, then this creates an additional design challenge. How can you impart upon your students the methods of something that seems so esoteric?
One common approach is to teach a bunch of techniques. This assumes that design is just a technical question; as if all that is necessary is to have a solution to every problem you can identify.
Don't get me wrong. Techniques are really important, and I teach them. But if you stop there, you'll miss the forest for the trees. You can have all the techniques down but still miss the mark when it comes to design.
How can we get a handle on the non-technical side of design? I'd like to share one approach I've found really helpful in the design process that I think will help you design better.
Hidden assumptions
The approach I'm focusing on in this article is working to uncover assumptions about a problem. The example of teaching design as merely a set of techniques is an example of this. The idea that good design comes from presenting good permaculture techniques to students is an assumption (and an incorrect assumption at that).
If we quantify the world, it becomes a sea of data. We can't hope to keep track of all that data. There is just too much information out there. To cope with this, we have a cognitive map of the world that we've built mostly unconsciously. This map tells us about the world around us, and how that world works. This map is wrong. The world is too complex for this mental representation to be anything other than wrong. It's our best guess on how the world works.
What does this mean and what does it matter? On a personal scale, it means that we have ingrained assumptions about the world and how it operates that are probably either incorrect, or not fully correct. On the project level, it means that we have assumptions about how a site behaves and about our plan for the site.
Cattle farmer, or protein producer?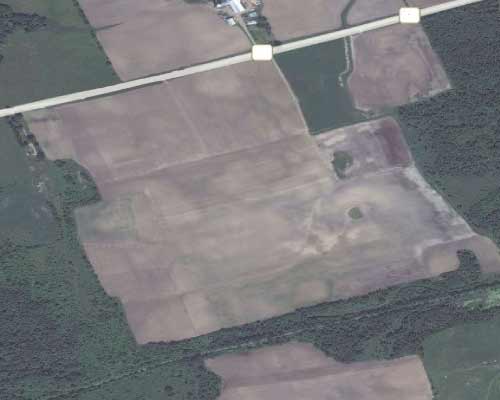 Let me give you an example. I have a neighbour with a cattle farm. He grows corn and soy to feed his cattle. His fields are at the bottom of a clayey hill, and are prone to excessive moisture — excessive when it comes to the production of corn and soy, that is.
To address this, he hired a team of consultants and earth movers to install tile drainage in the fields to deal with the water. In accordance with Murphy's Law, the following year saw a record drought. The problem could be broken down as a set of assumptions about the farm. Those assumptions are:
I am a cattle farmer.
I need corn and soy to feed my cattle.
The land needs drainage to grow the corn and soy better.
Removing the assumptions about the land, we get
If we remove the specifics of cattle farming, we get
Your gears are probably spinning at this point.
I am a protein farmer + wet land = aquaculture.
Trout and other farmed fish sells at or above the price of beef (beef being priced highly at the time this is written because of the previously mentioned record drought) and has a feed conversion rate that is at least 5 times lower than beef in this climate. (Feed conversion rate is the amount of feed required to produce one unit of body mass of the animal being fed.)
The farmer was right to hire consultants and spend tens of thousands of dollars regarding the water on his site. It's just that he hired the wrong team working in the wrong direction.
The team he hired did their job well, but it was a job that shouldn't have been done. The land is wet. It "wants" to be wet. Leave it alone, and it will be wet. With a little bit of help, it can be made even wetter. To make it dry will require a lot of work, throw away a valuable resource (water), and create a missed opportunity.
Imagine the same farm, now with water harvesting earthworks on the hillside to saturate the soil with even more water. Imagine the excavators brought in, not to dig trenches for drainage, but to excavate an array of long, narrow ponds. The earth excavated for the ponds is placed between the ponds, building the earth up. The topsoil from both the area over the ponds and the area between the ponds is finally placed on top of the mounds between the ponds, making vegetable beds with deeps soils. There is even room in here for adding trees. This would have the added advantage of shading the ponds to keep the water temperature down, which would help maintain the oxygen levels the trout would need (not that trout would be the only option).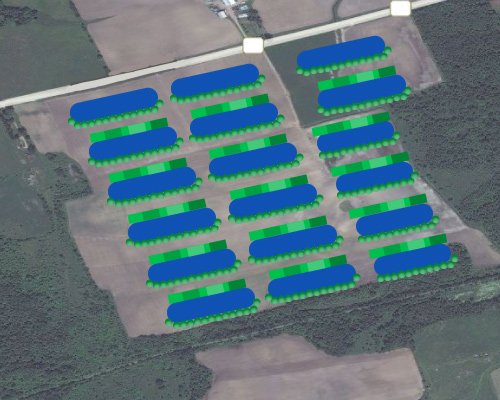 In this scenario, the farm still produces protein, but it does it more efficiently by shifting to aquatic production. The farm also diversifies by adding vegetable production from the beds between the ponds.
Moral of the story
The message here is not about the farmer and his vision. It's that we carry with us underlying assumptions about how things are and how things should be; and that those assumptions are, at best, incorrect approximations of how things are or could be. When we can spot those assumptions and challenge them, we free ourselves to do something creative that can be really effective.
As a designer, you need to find the pieces of the picture you are taking for granted. Ask yourself why something is the way it is. Ask yourself what-if questions. Set aside time to look at what you are taking for granted, and see what might happen if you operated outside of those assumptions.