What are swales?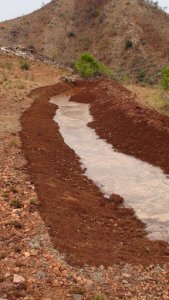 Simply put, swales are ditches dug on contour. Being level, they are not designed to transport water from one place to another. Rather, their intention is to allow water to soak into the ground.
The term "swale" is a little confusing, as it is used in landscape architecture to describe a grassy ditch designed to gently drain water from an area. In permaculture, however, the term means a level water-harvesting ditch.
Why are swales used?
Swales stop runoff, allowing water to sink into the ground. The effect generally raises the water table. This makes them useful in supporting trees, and as part of a broader water-catchment strategy for a site. It should be noted, though, that many fruit trees do poorly in areas with a high water table. You will have to consider where you are installing swales, and to what end.
Where are swales used?
Swales can be used on sites with slopes from 0º up to 20º. Even seemingly flat sites can have circular swales used to capture water. On slopes greater than 20º, it is not only unsafe for most machinery used to dig swales, the volume of earth moved versus the volume of the swale makes swale construction inefficient. A smaller volume swale has a smaller catchment area, requiring more frequent spacing of swales. (See the graphic below and the Swale Calculator for more.)
Click "Animate" on the graphic below to see the effect of slope on volume.
Note that as the slope increases, the volume of the swale decreases.
Where not to use swales
Firstly, swales are aimed at supporting trees and raising the water table. If you want irrigation for a vegetable garden, swales are not the way to do this. In many, if not most cases, the water captured by swales would penetrate too low to benefit garden crops. Additionally, most garden crops will not tolerate the water table within 30 cm (1 foot) of the surface for more than 24 hours. This is why farmers are willing to spend tens of thousands of dollars on carefully engineered drainage systems. Too much water is as bad as too little.
Secondly, there are situations in which swales can cause damage to property or even loss of life! As always, you will have to design with safety in mind. For more on this topic, see the article "When Swales Can Kill."